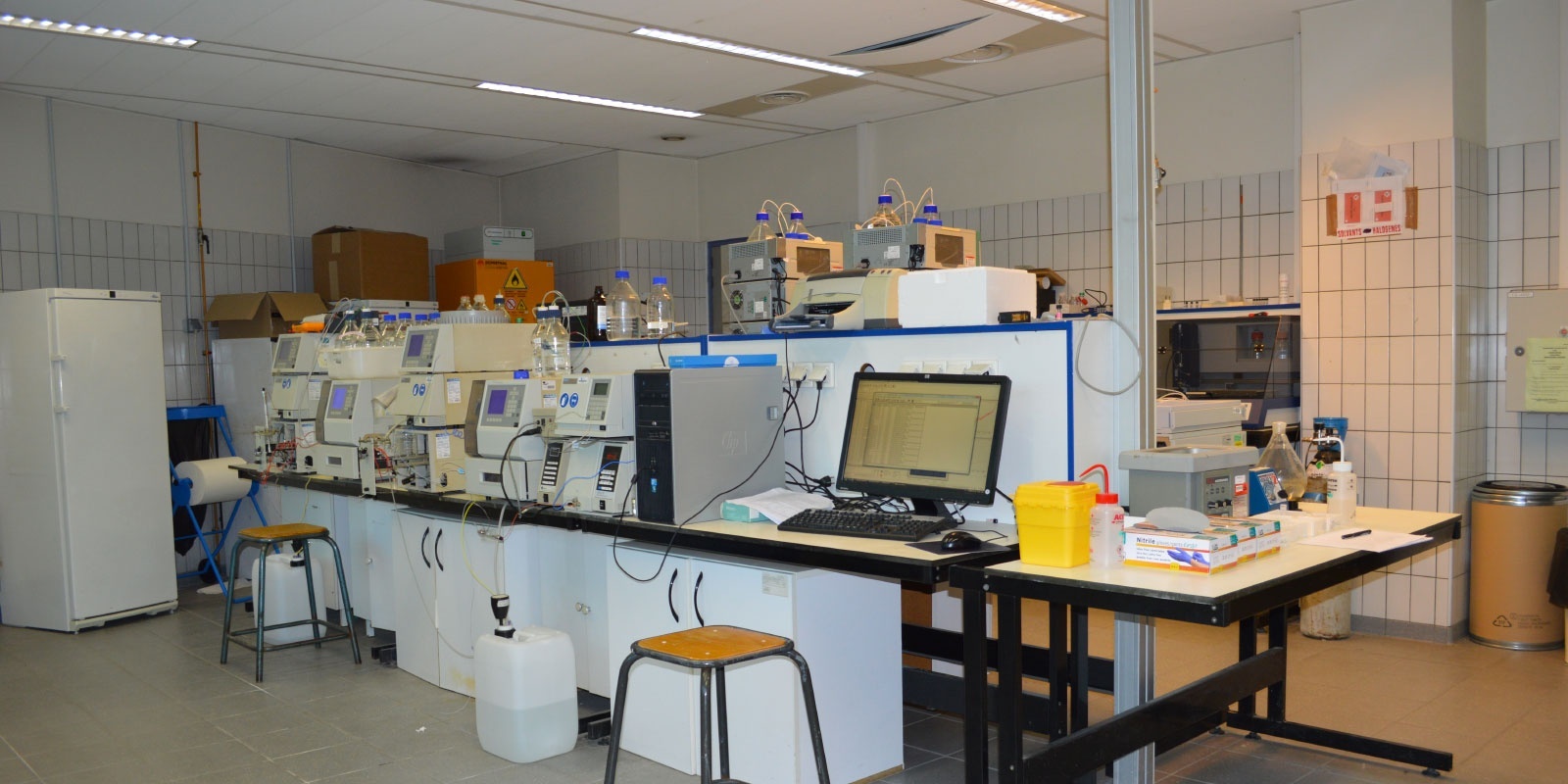 Facilities of excellence
Platforms and technical platforms
EQUIPEX REALCAT platform (École Centrale de Lille)

EQUIPEX REALCAT is an integrated platform applied to high-throughput screening of CATalysts for biorefineries. This high-throughput platform, which is unique in the world, integrates the preparation, characterisation and demonstration of the catalytic properties of new (bio)catalysts in the same place, and is dedicated to catalysis in all its forms (enzymatic, heterogeneous and homogeneous), as well as to their combinations (notion of "hybrid catalysis"). At its full potential, REALCAT can handle the entire development chain of (bio)catalysts up to their qualification. The platform includes equipment for synthesis, characterisation and evaluation of catalytic performance: 1 Colony Picker, 3 high-throughput synthesis and screening robots, 2 Biolectors for cell culture screening, 6 parallel mini-bioreactors (useful Vol. 400mL), 1 MALDI-Autoflex TOF/TOF mass spectrometer, 1 liquid chromatographic chain (UPLC) coupled to a mass spectrometer (MS/MS) equipped with ion mobility (ESI-IM-MS/MS) (UPLC-Acquity-Synapt G2Si). The budget for the purchase and maintenance of the equipment is 8.3 million euros. BioEcoAgro is on of the major partners for the development of biotechnological approaches.
- 1 BioLector I (M2PLabs) for the screening of microbial strains and fermentation parameters
- 1 BioLector Pro (M2PLabs) coupled to a Biomek NXp (Beckman Coulter) for advanced screening of microbial strains and fermentation parameters
- 1 Biomek FXp HTS (Beckman Coulter) dedicated to high-throughput screening of enzymatic activities
- 1 Biomek FXp BioMol (Beckman Coulter) dedicated to molecular biology and microbiology operations
- 1 QPix 460 Colony Picker (Molecular Devices) for automated microbial colony picking
- 1 Q-Tof HRMS Synapt G2Si mass spectrometer coupled to an Aquity UPLC chain (Waters) for the detection and analysis of small molecules (substrates/products, metabolites, peptides and proteins)
- 1 Autoflex Speed MALDI mass spectrometer (Bruker) for the detection and analysis of large molecules (proteins, polymers and micro-organisms)
- 6 Mini fermenters of 400mL (Applikon) for the screening of optimal microbial culture conditions

3PB: Production-purification platform, biomolecule pilot

The purpose of the platform is to provide the equipment necessary for the production and purification of biomolecules. Initially, laboratory tests are used to determine the scientific basis of the technique (mini fermenters, chromatography, membrane techniques, etc.) for the production and purification of biomolecules (peptides, proteins or polyphenols). Once the experimental protocol has been defined, it is possible to carry out the process on larger volumes (pilot scale). The purpose of pilot testing is to settle a number of dimensional and other more technical aspects. Pilot testing is the essential complement to laboratory testing in order to enable the use of these molecules on an industrial scale. Thus the platform is a key element in bioprocessing because it is part of a large number of the Institute's activities as well as for its industrial partners.

BILILLE: Lille bioinformatics and bioanalysis platform

Bilille organises thematic days, technical seminars and training courses to enable each person (researcher, engineer or doctoral student) to develop their skills according to their needs. It is also possible to benefit from the direct support of the platform in the form of engineering missions. These missions are managed by an annual call for projects. Within the framework of the BILLILE AAP, the team has already benefited from engineering missions in bioanalysis to explore protein structure data for enzyme screening. Valérie LECLERE is a member of the board and in charge of the communication unit.

Bioactivity technical platform: development and use of techniques for evaluating the biological activities of peptides

Cell culture room, Animal house, Microplate reader, Radioactive room

The objective of this platform is to set up assay techniques but also methodologies for understanding the mechanisms of action of peptides. In order to meet the needs of the different teams in the laboratory and the demands of industry, the screening of certain biological activities, In order to meet the needs of the different teams in the laboratory and the demands of industry, the screening of certain biological activities, in particular opioid (involvement in the regulation of stress and food intake), ACE (Angiotensin Converting Enzyme) inhibitor (antihypertensive), regulator of the secretion of intestinal hormones (CCK/GLP-1 and DPP-IV), is carried out by simple in vitro assays and cellular models, anti-inflammatory and anti-oxidant. In vivo assays are performed on hydrolysates (or hydrolysate fractions) that are particularly active in vitro to characterise and confirm the biological activity of interest. The cytotoxicity of fractions or extracts is also evaluated and constitutes a strong expertise of the technical platform.
A close link between in vitro and in vivo tests will allow confirmation of the supposed biological mechanisms.
Other facilities of excellence
Bioreactors
• Ambr15 Minibioreeactor
• 3 MiniBio Fermenters
• Fully Regulated Enzyme Bioreactors
• 5/10L Fermeters + Peristaltic Pump
• Liquid-Solid pump

Biochemistry/Molecular Biology
• UV/Vis/Fluorimetry/Luminometry spectrophotometer
• 2 Flux Cytometers
• PCR Thermocyclers


Samples Treatment
• Atomiser
• Cells Grinder
• Ultracentrifuge
• Dessicator
• Cryostat
• Microplates Speedvac
• Lyophilisator
• 3L Rotavapor
• 20L Industrial Rotovapor

Analytical Systems
• HR Qtof Mass Spectrometer
• MS Puriflash system + TLC-MS
• HPLC DAD - Corona
• Automated Migration Cuve
• Automated TLC visualization system
• HPTLC Vario System
• Ionic Chromatography
• CAMAG system
• Electro-UltraFiltration System
• UHPLC System - PDA & PDA/QDA